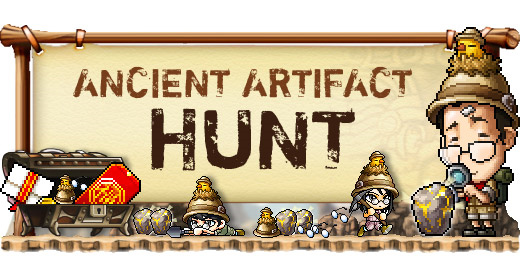 -When -
June 1, 2011 - June 28, 2011..
-NPC-
Gaga
-
Mechanics -
Pick up Mysterious Artifacts from monsters and gather 5,000 excavation points to receive the regular Archeologist Hat and Archeologist Glasses. If you're one of the top 10 archeologists by 5 PM Sunday (Pacific) during the duration of the event, then your hat or glasses can become permanent! (You'll have one full week to redeem your reward.)
-Rewards-
- Uncover eight different treasures and return them to their owners to get a Mystical Artifact Discoverer Medal!
- Maintain your spot as a top 10 archaeologist for a week to earn an Artifact Top 10 Medal!
- Reach 30,000 excavation points and receive a special mount skill as a reward!
-Maple Story Global's Ancient Artifact Hunt Now -
Source maple.nexon.net